Fairfax legislator calls it quits
Paquin ends House run after 12 years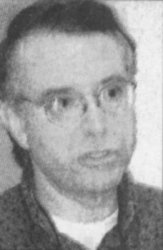 By CONOR BERRY
Messenger Staff Writer
FAIRFAX - Franklin County is losing a potent voice in the Vermont House of Representatives. Veteran legislator Edward H. Paquin Jr., widely regarded as one of the county's most capable representatives, is bowing out of state politics after a dozen years, ending a legislative career characterized by hard work and a resolve to boost northwestern Vermont's profile in Montpelier.
Paquin, a Democratic stalwart who has represented the towns of Fairfax, Fletcher and Westford throughout his 12-year career, said his decision was not a hasty one, but rather a thoughtful one that had been brewing for some time.
"I've been thinking about it for a long time," Paquin, 49, said this morning. "I hope to continue to do work that's related to public service or public policy."
When asked if his decision marked a political swan song or if he would ever consider running for public office again, Paquin said, "I have no idea."
A long-time resident of Fairfax, Paquin is originally from Shaftsbury in Bennington County. Even though he's a so-called "native Vermonter," one needs to have roots stretching back for at least three generations before one is truly accepted in state politics, he joked.
"I've been through two reapportionments," said Paquin, adding that the recent redrawing of political boundaries in his current district, Fairfax and Fletcher, had nothing to do with his decision not to seek another two-year term.
If Paquin were to run again, not only would he have to get reacquainted with his core constituency in Fairfax, the town he has represented for a dozen years, but he also would have to introduce himself to voters in the Town of Georgia.
Fletcher, the town he had represented for the past 10 years alongside Fairfax, was a casualty of redistricting and is now part of a new district encompassing the much-larger Town of Cambridge. When he first won office in 1990, Paquin's House district also included the tiny Chittenden County Town of Westford.
Speaking of the current political map, which was only recently approved, Paquin said, "I don't think it was handled terribly well." He, like state Sen. Sara Branon Kittell, D-Franklin County, thought northwestern Vermont's sizable growth over the past decade warranted the creation of a third Senate seat. Unfortunately, though, he said, the clout of some Northeast Kingdom senators, particularly the two powerful Republicans from the Essex-Orleans district, Vincent Illuzzi and James Greenwood, was great enough to prevent the Kingdom from losing a senator, at Franklin County's expense.
"Certainly, he (Illuzzi) and Greenwood had a lot do with it," Paquin said.
Looking pack on a tumultuous 12 years, from landmark civil unions legislation to his work in helping to pass Act 160, Paquin has no regrets.
"I truly enjoyed it," he said. "In my personal life, it's time to focus on something different."
Paquin, a self-described former "nail banger," was once a carpenter. But a freak 1998 accident ended his career. In November of that year, Paquin happened upon a car accident while visiting relatives in southern Vermont. When he got out of his car to investigate, he came in contact with a fallen power line, sending a powerful jolt through his entire body.
"Seventy-two-hundred volts went in my neck and out and out my knees," he said, recalling the incident. "My daughter and wife were in the car and, I guess, saw me light up."
Paquin lost much of his strength in his legs as a result of the accident. Even though he now uses a wheelchair and crutches to get around, he dislikes the term "wheelchair-bound," and instead views the device as a Godsend.
"A wheelchair is a liberating device," he said. "For me, it really is a tool."
Looking back on his legislative career, Paquin is most proud of his efforts to promote and support the now defunct Northeast Interstate Dairy Compact, which set minimum prices that milk processors had to pay to New England farmers for their milk.
"I think it made good economic sense, good economic policy," he said of the compact.
He also views his record on health care, particularly providing more options for Vermonters when it comes to home health care, as a winning one.
"I'm really proud of some of the human services work I've done," said Paquin, citing the passage of Act 160, which freed up more Medicaid dollars for long-term home care.
Three candidates have expressed interest in serving the new Franklin 1 Vermont House district. Two Republicans, Brian Dunsmore, of Georgia, and Mark Allard, of Fairfax, and Democrat George Bilodeau, of Georgia, have announced they will run.