HAPPY THANKSGIVING FROM
FAIRFAX, VERMONT - NOVEMBER 23, 2002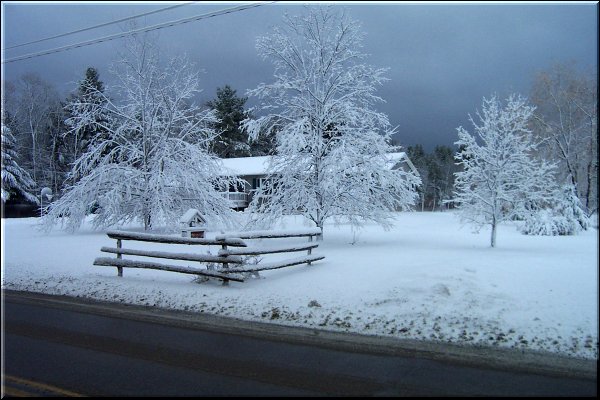 On the evening of November 22, 2002, rain was predicted as the temperature was in the upper 30s, with snow to arrive after midnight. The prediction came true and here in Fairfax, we awoke to one of God's wonders. Now, to Don, DJ and Brian, our Fairfax Road Crew, they may have seen this in a different light, as throughout the day, at least until around 5 p.m., the trucks never stopped. By mid-afternoon, the Fletcher Road looked as it does in the foreground, however, off the road, the above photo taken of this 245 Fletcher Road Residence remained a beautiful sight to behold.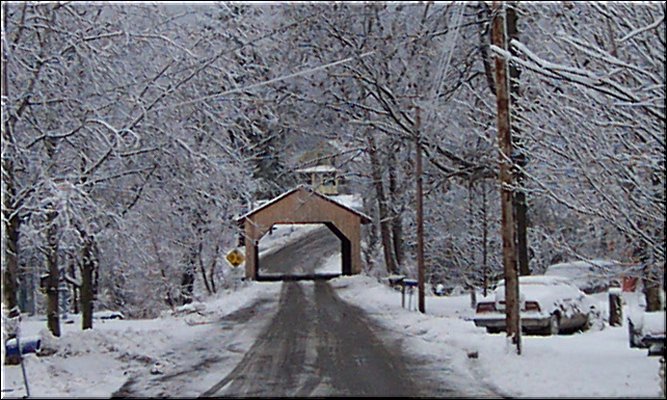 Meanwhile, in Fairfax Village, as I looked down Maple Street to view our one remaining covered bridge here in Fairfax, this is the view I saw.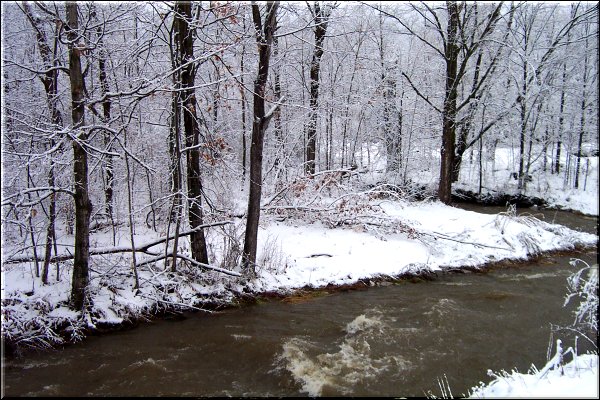 Once called Parmalee Brook and now Mill Brook is running at a fast pace as melting snow in the late afternoon finds its way to the Lamoille River.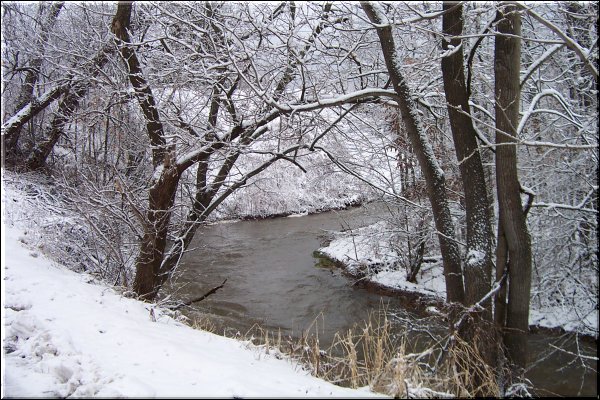 And another calm and peaceful view of Mill Brook is seen just below Bellows Free Academy before the covered bridge having made its way on the South side of School Street, through the center of Fairfax Center under Route 104 from points east towards Fletcher.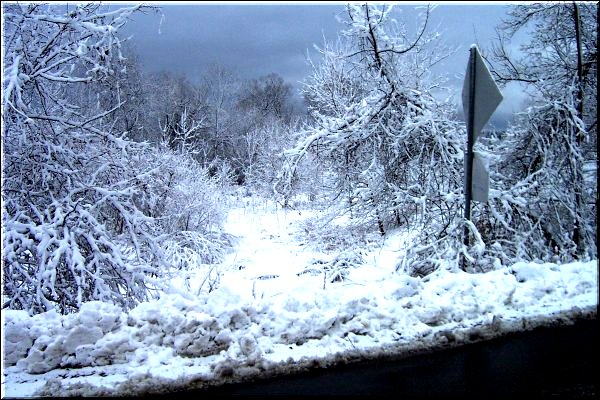 The above photo was taken on the left, just past the Maple Street Covered Bridge, looking towards the Lamoille River, unseen in the background. While on the Fletcher Road, taking my pictures, two cars stopped and waited patiently while I took some photos and got back in my Van. Even though I did not know who these people were, as they passed me they waved and smiled. Obviously no sign of Road Rage here.
The above photos are far from being professional photos and certainly do not do justice to the beauty that existed here in this quiet peaceful town of Fairfax on November 23, 2002. I feel I would be very remiss if I did not take this opportunity to share these photos, at least with those who are no longer living in the area.
It is said that "Beauty is in the eye of the beholder"
This beholder is a retiree, who did not have to go outside the house until the roads were plowed and the winds subsided. For those of you in the area who might have been involved in the five accidents between the Georgia/Milton Exits on I 89, travelled slippery roads to work, had to work long hours because of the storm, your view will obviously be different.
To all of you,
"HAVE A HAPPY THANKSGIVING"
Henry A. Raymond
vtgrandpa@yahoo.com
November 24, 2002