SWAMP ROAD FAMILY FEATURED IN
ST. ALBANS MESSENGER
MARCH 15, 2002
How they heard about Ryan's secret

Little boy makes big progress with aid of early hearing test


By Gary Rutkowski - Messenger Staff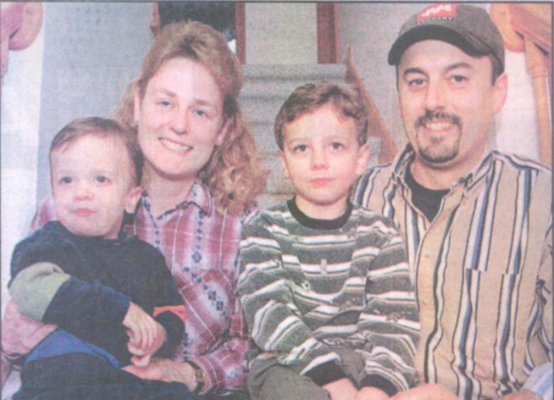 Shown above, Ryan, 2, Sue, Justin, 5, and Paul Tice
FAIRFAX - There was a time when a child like Ryan would have coped for months or even years with a silent secret. The fact that his problem was thoroughly understood by his first birthday is a tribute to new technology, a simple test that determined what a tiny baby couldn't tell anyone.
Ryan Tice, even though he was born prematurely, was lucky in one regard. By the time he was one, medical experts had determined that he couldn't hear in his left ear.
Had Ryan's problem remained a secret, his parents Paul and Sue Tice of Fairfax know what might have happened.
"He could have been four or five years old before we caught onto the problem," said Ryan's mom. "He might have gone into speech pathology, or who knows what. We would have just thought he couldn't speak correctly. We would have lost all of that time."
That didn't happen, however, and today Ryan, now 2, is a spunky toddler on the verge of becoming a much more communicative part of his family.
The head start he received was due to a screening for hearing received while in Fletcher Allen's Neonatal Intensive Care Unit in Burlington.
Closer to home for many Franklin County residents, the Northwestern Medical Center (NMC) also has been on the cutting edge of this project.
The NMC two years ago joined Southwestern Vermont Medical Center and North Country Hospital as the only hospitals in Vermont providing hearing screening for all newborns, said Jonathan Billings, NMC's director of Community Services.
"Our service grew out of the efforts of Rep. Avis Gervais and conversations with families of hearing impaired children, local physicians, and the Vermont Department of Health. We are very pleased that other hospitals have decided to acquire the technology and offer this important service," said Billings.
The diagnosis of nerve damage in Ryan's left ear, involving a procedure that required a more invasive procedure, finally was confirmed by experts about a year ago. It was, however, that initial test in the neonatal unit that set the wheels in motion toward early diagnosis.
The Tices, obviously, have good reasons to be sold on the testing.
"Newborn hearing screening is critical for all babies, not only so that parents' minds are at ease but more importantly, so they can take measures immediately if there is a hearing loss," said Sue.
Audiologists and specialists have found that nationwide about half the children who are diagnosed with permanent hearing loss have no risk factors at birth.
Thus, their hearing wasn't being checked at birth and hearing loss wasn't discovered until the children were much older.
Stacy Masson, an audioloigist at Fletcher Allen and for the Vermont Department of Health's Hearing Outreach Project (HOP), said, "The first two years of life are the most critical for speech and language development. The younger we can identify children with hearing loss, the sooner we can educate families and help families make a decision on the type of intervention they want to take."
Understanding Ryan's hearing loss is a big deal, but dealing with it on a daily basis is a matter of making small adjustments, said Ryan's mother.
Since Ryan has 100 percent hearing in his right ear, the family makes sure that ear is facing toward the inside of the car or facing those speaking with him during meals and other times of the day.
Bea Grause, president of Vermont Association of Hospitals and Health Systems (VAHHS), has praised how the state's hospitals have worked together to test hearing in children. She said it is a prime example of how institutions, such as Fletcher Allen and the NMC, are addressing quality patient care and community health issues.
"It was just the right thing to do," said Peggy Kane, RN, the nurse manager of NMC's Family Birth Center: "We were very excited to add this test to our routine newborn procedures back in 2000. The consequences of delayed detection of hearing loss were just too significant to ignore."
In addition to providing newborn hearing screening for all infants, NMC is a host site for the HOP. This statewide service provides testing for children who are suspected of having hearing difficulty, as well as serving as a connection to services and resources for children found to have a hearing impairment and their families.
Sue Tice said Ryan's speech is coming along. As with any two-year-old, he still has a limited vocabulary and enunciation skills are yet to be completely mastered. However, with the knowledge provided by early hearing tests, Ryan is on his way to a normal life and much faster than children his age were in the days before newborn hearing screnings became the norm in Vermont.
Note: Special thanks go to representatives of the community services and public relations offices at Fletcher Allen and Northwestern Medical Center for their assistance in compiling this report.