PAY DIRT
Tilling gardens in Vermont produces bounty for Caribbean hospital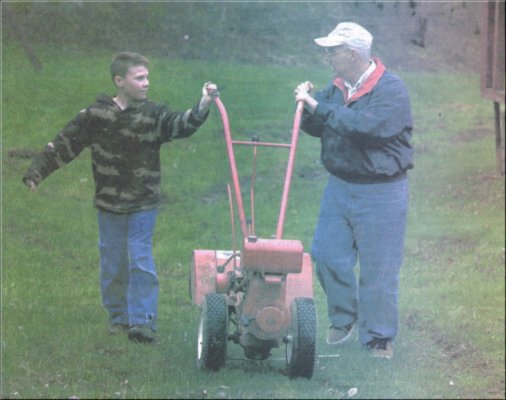 Tom Brennan of Fairfax (right) gets a hand from neighbor D. J. Charland, 10.
By Brent Hallenbeck
Free Press Staff Writer
Tom Brennan is tilling for dollars.
Donations the Fairfax man receives for turnmg over dirt in people's gardens this spring will pay for supplies needed at an impoverished hospitat in the Caribbean.
This is the third year Brennan has raised money for a Hospital San Jose in the mountam community of San Jose de Ocoa in the Dominican Republic. He earned about $650 two years ago and $750 last year, which helped pay for a computer system that allows doctors to communicate with other doctors.
The money he raises this year will pay to ship medical supplies to the mission hospital, which is run by an order of nuns known as the Religious Hospitallers of St. Joseph.
Brennam is modest about the help he has given to the hospital. "It's very tiny," he said of his contribution "I think I get more of am impact out of it than they do." He said the residents of the southern Dominican Republic community are generous, sometimes plying him with coffee, food and kisses when he visits.
The bespectacled 45-year-old insurance inspector began his tiller project as an offshoot of a project at his church, St. Luke Parish in Fairfax. The Catholic church raises money for the hospital through an annual bake sale and regular collections among parishioners.
Sister Cecile Smith of the Religious Hospitallers of St. Joseph spent 18 years as the hospital's director of nurses before taking a post last year overseeing a home for the elderly in the Dominican Republic community of Cotui. Smith, who grew up in Richford and went to school in St. Albans, said the aid from St. Luke Parish helps buy medicine for people who otherwise couldn't afford it.
"They've been a big, big, big blessing"' she said by phone last week from the Dominican Republic. "They've never failed us. They send a portion of their collection, and it comes every month."
The hospital is in a community of 80,000 residents, including many farmers who grow coffee and bananas on the hardscrabble mountain earth. Smith who has been in the Dominican Republic for 29 years, said government funding for the hospital keeps dwindling.
"It's very poor and getting poorer," she said. "It's just going downhill." The hospital needs money to buy everything from gauze and adhesive tape to antibiotics and cardiac medicine," Smith said.
Brennan, who has made two trips to the Dommican Republic, plans a trip to the Caribbean nation betweern Thanksgiving and Christmas. He and his fellow church members hope to deliver about $10,000 worth of equipment from a defunct medical-supply business.
Brennan said his tilling this spring and the donations gardeners give him in return for his services, will help pay shipping fees for the equipment. "They work with practically nothing down there," he said.
Shari Levine of South Burlington used Brennan's tilling services last spring and might do so again this year. She sa[d he was quick, efficient and even brought compost for her 10-by-15-foot vegetable garden.
"While I was going to till my garden anyway, I thought it was a nice combination, said Levine, who learned of Brennan's service through a friend. She donated $75 for Brennan's cause.
The tilling projects roots go back about seven years, when Brennan's son and stepson tilled gardens to make pocket change to last through the spring. When they stopped doing that, Brennan refurbished his 30-year-old gas-powered tiller and decided to take their money-making arrangement in a charitable direction.
Brennan tills 18 to 20 small-to medium-sized gardens each spring and said it takes about half an hour for most jobs. When he starts tiring from his toil, the beneficent tiller focuses on his goal.
"I keep thinking of my next trip down there while I'm tilling" he said.
HOW TO HELP
To donate to the Hospital San Jose fund, send a check to Sister Rita Vallee at the Religious Hospitallers St. Joseph, 786 College Parkway, Colchester, Vt., 05446
To reserve Tom Brennan's tilling services to raise money for the hospital, call him at 524-3897. He is also offering to show slide presentations to provide more information about the hospital and the fundraising project.