UNIQUE BOVAT BIRTH DATE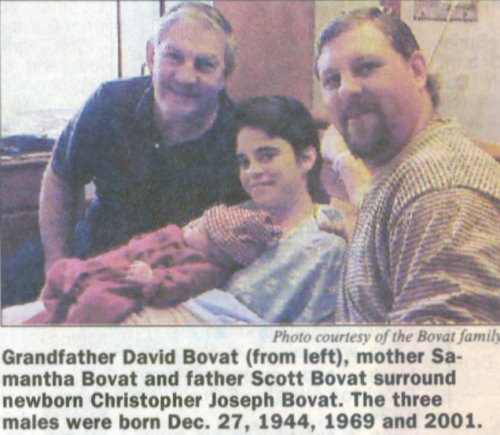 Family delivers on special birthday
Free Press Staff Report
Heritage runs deep in the Bovat family. When Christopher Joseph Bovat was born Dec. 27, it was a well-established day to celebrate in the family. His father, Scott Bovat, was born that day in 1969. His grandfather, David Bovat, came into the world that day in 1944.
The family has more such links. Christopher's older brother, Jeremy, 3, was born on the birthday of his mother, Samantha. Christopher was born at Brattleboro Memorial Hospital. He and his family live in Brookline in Windham County.

David Bovat, who lives in Grand Isle, said he had considered it special that he and his son share a birthday, let alone the three generations that will celebrate.
The Bovat family will look forward to Dec. 27. "I would say that it will be a party; there's no doubt in my mind," David Bovat said.