PHOTOS OF A CAR INVOLVED IN AN ACCIDENT ON CARROLL HILL ROAD FRIDAY EVENING MAY 2, 2003
(PHOTOS ARE COURTESY OF JOSH RAMSDELL)
TEEN DRIVER ARRESTED AFTER HIT-AND-RUN, CHASE
Vermont State Police on Friday arrested a 16-year-old Franklin County teen for a hit-and-run accident involving a sheriff's patrol car.
The unidentified juvenile was driving a truck that hit a Franklin County Sheriff's cruiser stopped at an accident scene, according to police. The driver then took off and was pursued by state police through Fairfield and Fairfax. The driver failed to stop when the trooper turned on his siren and blue lights.
The pursuit ended when the truck rolled over. Police arrested the teenage driver and 20-year-old passenger.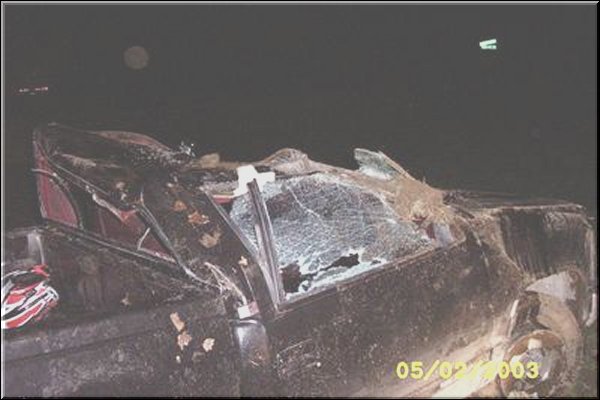 Henry A. Raymond
vtgrandpa@yahoo.com
May 4, 2003