BELLOWS FREE ACADEMY CENTENNIAL
KEEPSAKE MUGS ARE NOW IN ALSO

Mugs without handles $5 and with handles $7

The one with the handle is spill proof
I believe at the present time that the Country Pantry and Rick's Pharmacy here in Fairfax as well as the Library have them in stock
BELLOWS FREE ACADEMY CENTENNIAL KEEPSAKE CALENDARS ARE HERE

Students & Staff of Bellows Free Academy, Fairfax - 2002-2003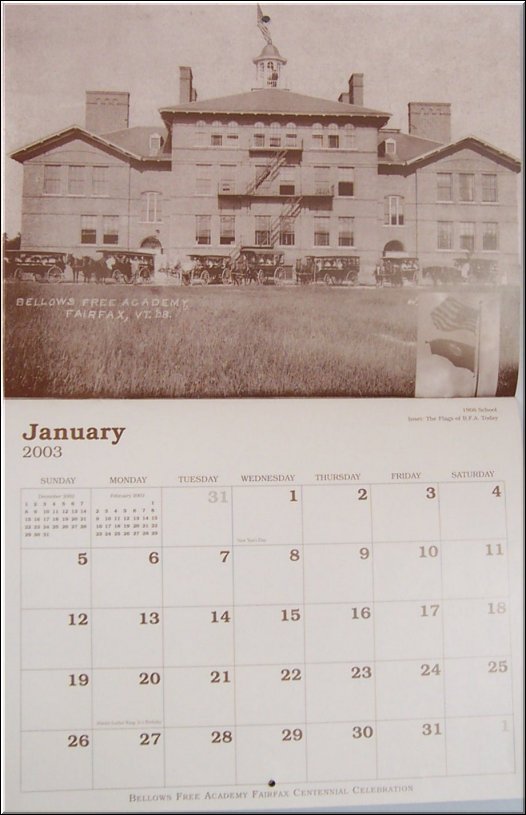 Bellows Free Academy 100th Anniversary Calendars are in and available at local merchants in Fairfax as well as Adams Quick Stop in North Fairfax, The Better Planet in St. Albans and The Bellows Free Academy Main Office for $10 each. The proceeds from these calendars will help defray the cost of our 18 month Centennial Celebration which starts on January 2, 2003 with a big Birthday Party. I am told that there is a good possibility that someone bearing a very close resemblance to the original Hiram Bellows might even be in the BFA Cafeteria at lunch time when a huge Birthday Cake will be served.
The calendar contains a large 7.5 x 10 unique photo on each of its 18 pages, along with insets on many of the photos of what things look like today. Perhaps the most unique photo is the one that appears on the January, 2003 page of Bellows Free Academy, Fairfax in 1908. This photo shows 7 horse drawn barges which were used to transport students from all areas of town except North Fairfax at that time. The oldest living graduate, Charlotte (King) Keefe was born January 4, 1905 and graduated in 1923 and now lives at the Senior Citizens Center in Berlin, Vermont. Our second oldest living graduate who graduated in 1925, Albert Rich,who was born in 1907 lives right here in town. Albert still drives his own car, mows his lawn and is still very self sufficient.
On August 24,1876, Hiram Bellows willed land and money in the form of railroad stocks to establish, build, and maintain Bellows Free Academy. The stock was allowed to mature until it reached an amount large enough to erect and maintain a school. This plan finally developed into a "free" public school begun in 1903. Although the school was the public school for the town, it retained a private school philosophy, stressing academic preparation, character development, and individual maturity. The original building burned in January, 1941. During the time of reconstruction, classes were held at many different locations in town. A new school building was dedicated in 1942. A 1960 expansion brought an addition of six more rooms to the rear of the building for grades 1-5. A large high school addition was opened in the fall of 1973. The 1960 expansion was renovated to house a new community library and grades 5-8, and was completed in 1990. Another expansion project, needed to accommodate the elementary students, was completed in 1999. BFA is a public school today, retaining its name and the same sense of pride in its students, staff, and building, characteristics implied in Bellows' original will.
This eighteen month calendar recognizes the span of time from the founding of BFA in 1903 (and its first graduating class of one member in June, 1905) to the present day. We especially would like to thank you for purchasing the calendar to help support the many activities in which the school and community will be able to participate in the next eighteen months.
The BFA Centennial Birthday Calendar Committee wishes to thank everyone who helped in this endeavor, especially the people who helped supply the photos: Henry Raymond, Mike Cain, Betty Ide, Kevin Hebert and the BFA yearbook staff members of years past.
_.......