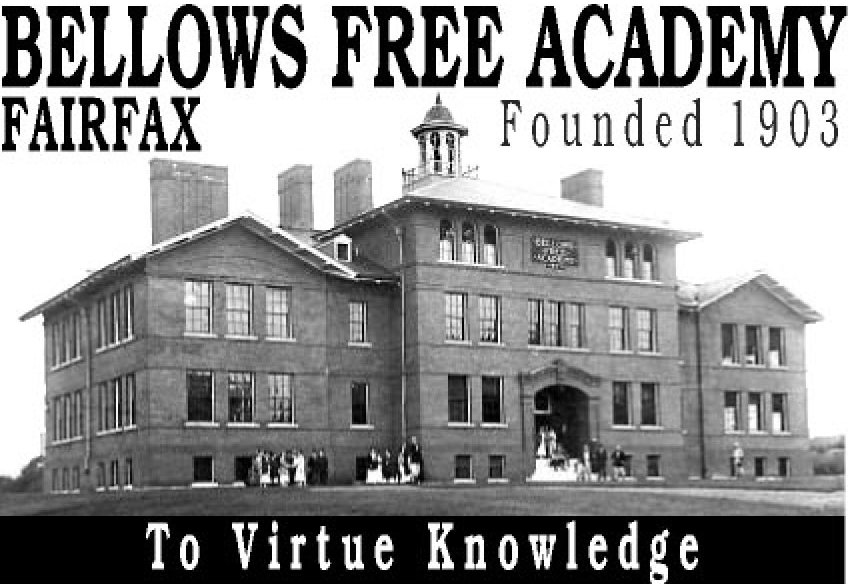 GARY GILBERT
Mr. Gilbert starting teaching at Bellows Free Academy in September, 1970
He has taught Grades 9-12, World History. Psychology, Sociology, Senior Social Studies(POD), Contemporary issues, U.S. History, A.P.United States History, The Cold War; as well as being Assistant Principal.
He feels lucky to have coached Varsity Boy's Basketball, Varsity Girl's Basketball, Varsity Baseball, Varsity Soccer, and JV boy's and girl's basketball, jv boy's baseball, and jv girls softball .
His Educational background includes a B.S. Johnson State College; M.A.T. University of Vermont; M.ED Johnson State College.
Gary who has lived in Fairfax since 1973 is married with two sons. Both graduated from BFA and are fine people. He also adds, "My wife is not bad either."
His decision to become a teacher was made in theory early but in reality only after his first teaching job. By then he knew the grade levels and community he wanted to work in.

When asked where he gathered his inspiration to be a successful educator, he answered:
"1. Bob Mathews -he taught history when I was in high school and coached. He also worked with teen programs in the summer. He kept kids interested in school and in sports and clubs and out of trouble.
2. Senator Bill Doyle - at Johnson, he introduced me to the inductive approach using primary sources. Today it's called concept development or the constructivist classroom. It stressed thinking and not memorizing.
3. Harold Schultz (UVM) who asked his students not to simply know what was done but to explore alternatives to generally accepted accounts.
4. Dick Brown, who cared about young people , established standards for them to reach for and created an atmosphere where teachers could teach and students could learn.
His guiding principles that he takes into the classroom each day and his philosophy of education are:
A teacher needs to be weird on purpose; students don't have identical frames of reference; it is better to ask students questions that you don't know the answer to than to ask questions from a textbook.
Mr. Gilbert's advice to any new or discouraged, teacher:
Have fun, enjoy the personalities of your students, but remember it's your classroom.

His favorite recreational activity or hobby is working with young men and women, sports and clubs. Right now golf is the major activity he's involved in. Even in his advanced years he's been lucky to have won a few championships.
When asked if he had any favorite projects for his students that they seem to enjoy he stated:
In senior social studies we often do a conditional use project following the town regulations. It's an open ended project that often lets non-traditional students shine. Sometimes the school-successful student has difficulties when there are no specific designs to follow. The problem-solving student does better than the student who does what the teacher has modeled for them.
When asked if he had any projects for his students that they didn't seem to enjoy, he replied, " Yes, but it is a secret." (I'll bet that's a secret I could pry out of someone)
In regards to major changes he has seen and made during his long career in teaching:
" I read a great deal more. The addition of advanced placement courses have had a trickle down effect. The type of learning experiences sometimes directed at the gifted or talented student are they type of experiences that all students could benefit from.
For myself, I have had to change my professional reading from instructional methods to content knowledge in order to be able supplement references to literature and events."
The change in size alone here at BFA has altered the relationship among staff, student, and parent. Legal responsibilities are a greater consideration than ever before. The school community was more of a family and the relationship was more trusting in every direction.
However, there are many more opportunities for students than in the past.
In my first year I taught classes without books. For the first two months the psychology class had one book, my copy. It forced me to write notes on the black board and to make up weird examples to illustrate the concepts. The POD class had two books - one was an eighth grade civics text and the other was an introduction to political philosophy written on the college level. Classes for the week consisted of material clipped from the NY Times Sunday paper. We told the community that it made for inventive instruction. But it made for lots of work with no fall back plan.
Most of the interesting stories can't be told to protect the living."
Henry A. Raymond
vtgrandpa@yahoo.com
May 22, 2003