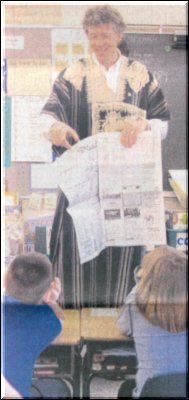 At right, Nicholas Woodward, 8, Tyler McNall, 9, and Mattie Hayes, 8, left to right point to a map as they celebrate National Peace Corps Coverdell World Wise Schools Day at BFA-Fairfax
BFA-Fairfax held National Peace Corps Coverdell World Wise Schools Day yesterday, March 5, 2003 in a day filled with a series of events. Elaine Sinclair-Fowler's third-grade Adventurers' Classroom began the day in the elementary school gym, where high school Math teacher, Joe McSoley and middle school Social Studies teacher Jim Lonergan showed slides from their days in the Peace Corps. McSoley has served in Kenya, and Lonergan spent time in Morocco. Sinclair-Fowler's class also received a phone call from George Fowler II, who is serving in Nepal. The school was one of 33 schools in 22 states selected to receive a phone call from a Peace Corps member serving in a foreign country. Following the phone call, there were presentations in classrooms by several Green Mountain Peace Corps volunteers.
Tim Barritt, at left, shows a Liberian newspaper to Gail Lyall and Kathy Gutman's second-grade classes, as he tells of his time spent in Liberia.