Owner: Richard C. Soule, Jr.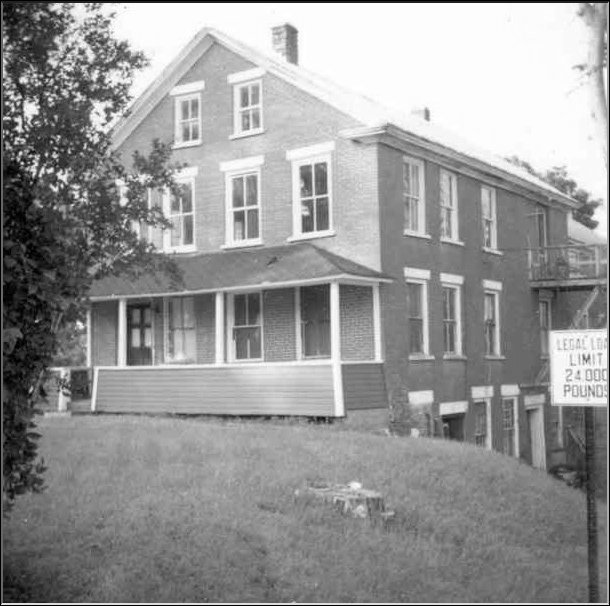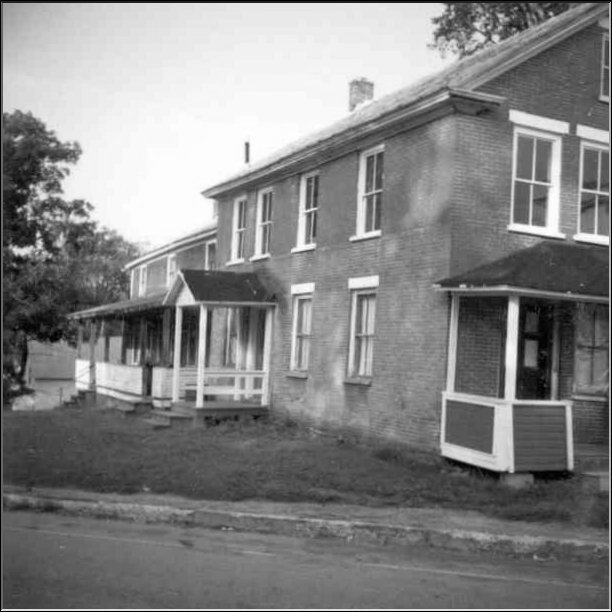 Vermont Division for Historic Preservation Ref - 604_044_043
COMMON NAME: Valley House
ADDITIONAL ARCHITECTURAL OR STRUCTURAL DESCRIPTION:
3 1/2 Story, 4 x 4, brick Greek Revival structure at the corner of Spring Street and Bridge Streets. Brick laid in American Comman bond, painted yellow. Stone foundation and metal-covered gable roof w/cornice returns. Wide plan. No fireplaces, interior half chimney. The main entrance is located on the southeast eaves side, left and enters onto a gable entrance porch (addition). Windows are 2/2. Flat wood lintels. Fenestration is symmetrical. There is a basement on the northwest eaves side (facing Spring St.) that has both a left and right entrance. Built as a hotel, in the po;ular Greek Revival mode this structure housed a butcher shop downstairs, and originally had a wing on the southwest side w/livery stable on the first floor and a dance hall above. Having several names over the years, the most common being the Valley House.
| | | | |
| --- | --- | --- | --- |
| DATE | GRANTOR TO GRANTEE | BOOK | PAGE |
| 17 May 1976 | James K. Warner to Richard C., Jr. and Donna Soule..W.D....A certain piece of land together with the buildings thereon, in the town of Fairfax...being a flat iron shape piece of land situated at the intersection of Main, Maple and Bridge Streets, so-called, in the Village of Fairfax...... | 44 | 399 |
| 19 Apr 1975 | Minerva Maloof, Adm. Of Estate of Janet & Joseph Peloquin to James Warner, Administrator Deed...Also known as the Old Hotel in the Town of Fairfax.... | 44 | 116 |
| 25 Aug 1972 | Eric A. Schuppin to Joseph & Janet Peloquin Estate....Quit Claim Deed..Being the Old Hotel property so-called... | 44 | 96 |
| 04 Apr 1966 | Joseph F. & Janet K. Peloquin to Eric A. Schuppin..W.D..Being a flat iron shaped piece of land situated at the intersection of Main, Maple and Bridge Streets....... | 39 | 293 |
| 03 Nov 1947 | William H. & Lillian B. Archambault to Joseph T. & Janet K. Peloquin..W.D..Same as above.... | 34 | 285 |
| 16 Sep 1946 | Louis L. & Ruby A. Ebare to William H. Archambault...W.D...Same as above | 34 | 69 |
| 08 March 1946 | Cordelia B. St. Jock to Louis L. & Ruby A. Ebare.W.D...Being a flat iron shaped piece of land..... | 33 | 477 |
| 28 Aug 1943 | Home Owners Loan Corp. to Joseph St. Jock..Q.C...Deed...First parcel: and is a flat iron shaped piece of land....... | 33 | 125 |
| 14 Jul 1942 | Home Owners Loan Corp. vs O. E. & Rose Audette and L. J. Burleson..Decree of Foreclosure...1st....and is a flat iron shaped piece of land..Together with the hereditaments and appurtenances thereunto belonging and also together with all disappearing beds and boxes, mechanical refrigeration units, wquipment for heating, lighting and cooking, mirrors, doors and window shades and personal property as are ever furnished by a landlord in letting or operating an unfurnished building similar to the buildings erected upon said mortgaged premises and now or hereafter installed therein....... | 33 | 116 |
| 28 Dec 1931 | Lillian M. Burleson to G. S. & Lillian C. Burleson...W.D..... | 30 | 67 |
| 14 Sep 1931 | G. S. & Lillian Burleson to Lillian M. Burleson.Q.C...Deed...... | 30 | 443 |
| 25 Jun 1924 | Merton E. & Louise A. Shedd to George S. & Lillian Burleson..W. D...being the so-called J. D. Shedd hotel property, located in the Village of Fairfax, in the hollow, so-called, and lying on both sides of the highway leading from Fairfax Hollow to Fairfax Plains and bounded as follows: the first parcel on which hotel building stands is bounded......... | 29 | 91 |
| 05 Feb 1923 | Laura N. Shedd et als to M. E. Shedd.Q.C...Deed......being the so called land with the buildings thereon on which the hotel known as the Valley House and barn is located the same being formerly owned and run by J. D. Shedd now deceased. Said hotel propertyt lying on the west side of the road leading from Fairfax Hollow to Westford and the barn lying on the east side of said road. Also all and singular the personal property now being in the building..... | 29 | 375 |
| | | | |
| --- | --- | --- | --- |
| 17 Dec 1910 | M. E. Shedd to John D. Shedd..W.D....Valey Hotel and barn, also 5 acres of land more or less, lying and being on Fairfax Plains........ | 24 | 257 |
| 17 Dec 1910 | Laura N. Shedd to M. E. Shedd.W.D.......The hotel, known as the Valley Hotel, lying and being in Fairfax Village, bounded on the easterly by the highway running from Fairfax to Burlington, on the westerly by the highway known as Water Street,...Also a small piece of land lying on the easterly side of said Burlington Road with the hotel barn standing thereon, also the scales standing in front of said hotel..also all the hotel furniture now remaining.... | 24 | 256 |
| 19 Feb 1885 | George A. Ballard, Guardian for James Sheehan, Estate to Laura N. Shedd..Guardian's Deed... | 21 | 98 |
| 31 Oct 1883 | Fred R. Woodward to James Sheehan.W.D....A certain piece or parcel of land and the buildings thereon standing lying and being in Fairfax in said County and described as follows: bounded easterly by the highway leading from Fairfax Village to Westford..also all the personal property inventoried and left by me in the hotel and barn and outbuildings on said property.... | 20 | 409 |
| 19 Mar 1883 | Louisa Bowman to Fred R. Woodward.Q.C.Deed.... | 20 | 351 |
| 31 Dec 1873 | M. G. & A. B. Ovitt to James Pease..W.D....All and the same land and premises with hotel buildings and tenant house thereon standing.... | 18 | 618 |
| 06 Dec 1872 | Edward Flinn to M. G. Ovitt.W.D.....All and the same land and premises with hotel building and tenant house thereon standing.... | 18 | 485 |
| 10 Oct 1870 | Richard & Maggie Flinn to Edward Flinn.W.D....Being the same land and premises with hotel building and tenant house thereon standing....... | 18 | 124 |
| 16 Feb 1869 | Edward Flinn to Richard Flinn..W.D.....Same as above...... | 17 | 613 |
| 28 Mar 1868 | George H. & Sara J. Hill to Edward Flinn..W.D......Being the same lands and premises with a brick hotel andhotel barn thereon standing........... | 17 | 514 |
| 03 Jul 1867 | Edward Flinn to George H. Hill.W.D.......all and the same land and premises heretofore deeded to me by Ebenezer Wood....... | 17 | 377 |
| 18 Feb 1867 | Ebenezer Wood to Edward Flinn..W.D.......Being all and the same land and premises deed to me by George & Sara Hill reserving to myself all the manure on said premises | 17 | 306 |
| 20 Oct 1866 | George H. & Sara Jane Hill to Ebenezer Wood..W.D.....All and the same land and premises heretofore deeded to me by Edward & Jane Irish, part of said premises being subject to an annual rent of $5.00. Said Hill reserving all the manure now on said premises and all that may be made on the same up to the 1st day of April next........ | 17 | 230 |
| 20 Jan 1866 | Ed M. Irish to George H. Hill.W.D.....all and the same land and premises deeded by Samuel Randall and is the same now occupied by me as a tavern.....reserving all the manure that now is upon said premises and also reserves all the household furniture...... | 17 | 99 |
| 03 Dec 1864 | Samuel & Olive Randall to Ed Irish.W.D...being the same land and premises...and is the same now occupied by me as a tavern Stand in Fairfax Village...said Randall reserves all his stoves and stove pipes and carpets plus the butcher sign nailed to the building: Randall also reserves all the manure now on the premises and all that should be made to the 1st day of April, and said Randall is to pay said Irish $9.50 for said manure...... | 16 | 622 |
| | | | |
| --- | --- | --- | --- |
| 12 Mar 1860 | Joseph D. Soule to Samuel Randall.W.D.a certain piece of land described as follows. Viz: bounded easterly by the highway, westerly by the highway, southerly by land owned by Joseph Root, Jr. and land owned by H. E. Hubbell and J. H. Dewey...... | 16 | 43 |
| 12 Mar 1860 | MORTGAGE DEED Samuel Randall to Joseph Soule ...being the same land this day deeded to me by the said Soule and known as the Farnsworth Tavern Stand...... | 16 | 43 |
| 12 Mar 1860 | H. E. Hubbell to Joseph D. Soule..Q.C..Deed described as follows....the Tavern Stand in Fairfax mortgaged by Jude Brown to Luther Hyde by mortgage deed dated November 20, 1855, which mortgage has been assigned to me and a decree of foreclosure made and the decree expired one year from its date....... | 16 | 42 |
| 20 Nov 1855 | Luther A. Hyde to Jude Brown.W.D.....being the same land that was deeded to Luther A. Hyde by Carlos H. & Carlton L. Farnsworth and being the same premises now occupied by us..... | 14 | 457 |
| 24 Mar 1853 | Carlos & Carlton Farnsworth to Luther A. Hyde.W.D...bounded westerly by Water Street, easterly by the highway leading from the Village to the Arch Bridge and southerly by land heretofore bought of Ephriam Butler by Alvah Farnsworth, hereby meaning to convey the Tavern Stand and Tavern Stand lot in Fairfax....... | 14 | 14 |
| 04 Jun 1853 | A Wilson & H. E. Hubbell to C. H. & C. L. Farnsworth.....QC...being the tavern stand heretofore known as the Farnsworth Tavern Stand in Fairfax... | 14 | 16 |
| | | | |
| --- | --- | --- | --- |
| 13 Apr 1846 | Carlos Farnsworth & Brothers to James Bellows........MORTGAGE DEED ......Bounded northwesterly by the highway leading from the main road to the old toll bridge (place) southeasterly by the highway leading from H. E. Hubbell's office to Burlington, southwesterly by land owned by Ephriam Butler and is the same formerly deeded by Ephriam Butler to Ira Farnsworth and by said Farnsworth to us on which there is a brick house now standing occupied as a tavern...(This Mortgage was discharged on January 4, 1853) | 11 | 448 |
| 20 Nov 1844 | Ira Farnsworth's deed to C. H., C. I., and A. D. Farnsworth....being the same heretofore deeded to me by Ephriam Butler for a more particular description of which reference being had to said deed or the records thereof in the Town Clerk's Office in Fairfax with a brick house thereon standing in which I now live.... | 11 | 206 |
22 Feb 1843

Ira Farnsworth's LEASE to Carlos H. Farnsworth...land situate, lying and being in Fairfax aforesaid described as follows viz: about twelve acres of land that heretofore belonged to the Israel Richardson farm that was heretofore deeded to the said Ira by Moses Bates - also the tanyard and shops there to attached together with the lot on which it stands and water privileges thereto.................................Also the basement story of the brick house recently built by the said Ira - also the lot of land on which the said Ira now lives with the buildings thereon standing...................To have and to hold the same to the said Carlos H. his heirs and assigns for and during the term of five years from the data hereof and the said Carlos H. for himself and his heirs covenant to and with the said Ira, his heirs and assigns that he will use and improve said premises in a good husbandlike manner and at all times keep the same in as good repair as they now are, and commit no waste thereon and will pay all taxes and assessments thereon and pay the said Ira One Hundred Dollars a year as rent for the same to be paid quarterly in sums of Twenty five Dollars cash, the first payment to be made March 22, 1843.............

1842 - TAX RECORDS IRA FARNSWORTH - 13 A $1500 1843 - TAX RECORDS IRA FARNSWORTH - 13 A $2126

CENTURY AWARD _ 1842

11

19