H. ROSAMOND (ROS) (MULDOON) MAYNARD
1933 - 2002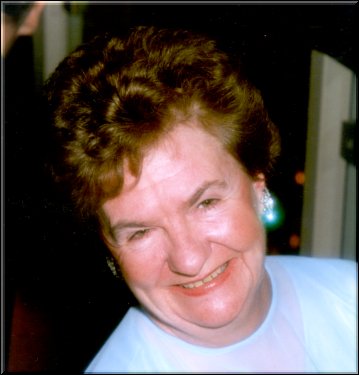 ST. ALBANS -- H. Rosamond (Ros) Maynard, age 69, died surrounded by her loving family, Tuesday evening, Dec. 10, 2002, in Fletcher Allen Health Care. She was born in St. Albans, June 4, 1933, daughter of the late Charles V. and Gertrude M. (Leahy) Muldoon.
She graduated from St. Mary's High School with the Class of 1951. She married John Maynard in August of 1974. Mr. Maynard pre-deceased her Nov. 26, 1984.
Ros was the secretary of the St. Albans City Public Works Department for 1977 to 1988. She then went to be secretary at the Century Arms Company, retiring in 1995.
Ros was a proud member and past president of the American Legion Auxiliary Unit #1, the Veterans of Foreign Wars Unit #758, the Wednesday Night Dart League, and the Ladies of St. Anne. Ros will also be remembered for providing sandwiches and drinks, during fires, for the St. Albans City Firefighters, whom she affectionately called "Her Boys."
The family would like to extend their heartfelt thanks to the McClure 3 ICU staff and especially Dr. A. Beatty, Dr. Julie Adams, and special nurses, Leigh Sears, Sharon Sopchyshyn, Kim Rhodes, and Andie Cunningham.
Mom, we love you and will miss you.
Ros is survived by her two daughters, Cheryl Minotti and her husband Henri Langevin of Queensbury, N.Y., and Debra Blouin of St. Albans; three grandchildren, Sarah Blouin and her companion Jason Luman, Tyler Blouin, and Anthony Langevin; a very special friend, Kent LaCross; three cousins, Clare Muldoon, Trish Paquette and her husband Paul, and Mary Parisi; one sister-in-law, Claire Muldoon; two special canine friends, Teddy and Sophie; several nieces and nephews.
Besides her parents and husband, she was pre-deceased by a sister, Allyn Secord and a brother, Ret. Lt. Col. John L. Muldoon.
A Mass of Christian Burial will be celebrated Saturday, Dec. 14, 2002, at 11 a.m. in Holy Angels Church. Interment will follow in the Muldoon family lot in Holy Cross Cemetery. Friends may call at the Brady & Levesque Funeral Home, 86 S. Main St., from 2 to 4 and 7 to 9 p.m., Friday.
Memorials may be made to the St. Albans City Firefighters Association, 30 Lower Welden St. St. Albans, Vt. 05478, or the Franklin County Home Health Agency, 3 Home Health Circle, St. Albans, Vt. 05478.
Arrangements are entrusted to her friends at Brady & Levesque Funeral Home.
Henry A. Raymond
vtgrandpa@yahoo.com
December 12, 2002