Does Anyone Remember IBM's 20th Anniversary in March, 1977

In the photo below, you see Larry Gerlack calmly watching this delicate operation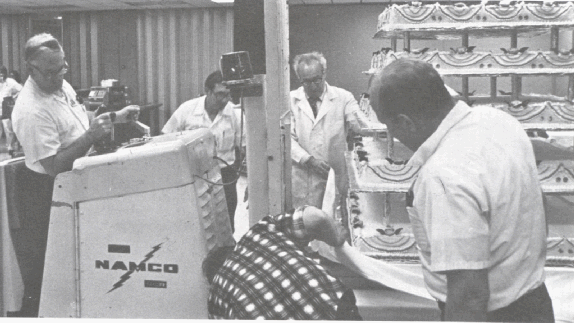 How Sweet it was......
The first shift 'birthday cake' had been maneuvered into position in the cafeteria during the early morning hours. Four feet square at the base and standing a majecstic five and one-half feet tall, it was placed on two conference tables specially braced to hold the weight of close to one ton. Each of the three shifts had its own hand-decorated cake. The rest of the menu offered culinary delights that included shrimp coctail and sauce, roast prime rib au jus, au gratin potatoes and cheesecake with strawberries.
Highlights of the day included a 16-page special edition of This Week, free vending machine beverages, a hallway-theater complete with popcorn machine, a costume-judging contest, special boutonnieres for the first employees and an anniversary mug for all employees